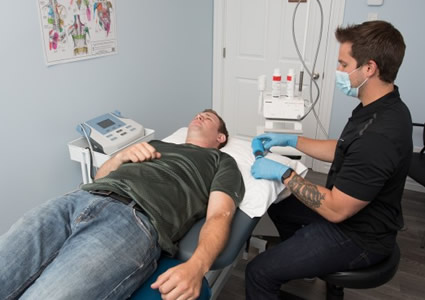 Physiotherapy
Physiotherapy is an evidenced-based approach at evaluating the human body for any physical impairments, movement dysfunctions and pain disorders. Physiotherapists use education, exercises, acupuncture, tape, and pain modalities to aid in the treatment of disease, injury or deformity. Physiotherapy is appropriate for anyone looking for an adjunct or alternative to medical management of their impairments.
Conditions We Address
Common conditions we've successfully addressed at our practice include
Arthritis
Carpel tunnel syndrome
Chronic pain
Degenerative disc disease
Disc injuries
Fibromyalgia
Foot pain
Headaches
Heel pain
Ligament injuries
Low back pain
Nerve pain
Plantar fasciitis
Postural dysfunction
Rotator cuff tears
Sciatica
Sports injuries
Tennis and golfer's elbow
Here are some of the many benefits you may experience as a result of physiotherapy:
Pain relief
Improved function
Increased strength
Improved balance
Better self-management strategies
We offer an array of techniques to help our clients get the best results possible:
Exercise prescription
Manual therapy
Joint mobilizations
Joint manipulations
Acupuncture
Active Release Techniques (A.R.T.)
Pain-relief modalities (interferential current)
Taping
Both chiropractic and physiotherapy are grounded in an orthopedic examination and the management of the neurological and musculoskeletal system. The two complement each other in that chiropractic care focuses on establishing a balanced movement of the system. Physiotherapy focuses on strengthening and stabilizing the well-balanced system.
Does Insurance Cover Physiotherapy?
Most health insurances provide a yearly allotment for physiotherapy services. It's a good idea to become familiar with the particulars of your policy as some insurance companies require payment from the individual up-front. Depending on your insurance coverage, you may need a referral from your primary care provider.
Contact us today to schedule an appointment for physiotherapy.
BOOK APPOINTMENT »

Physiotherapy | (506) 206-0166