New Patients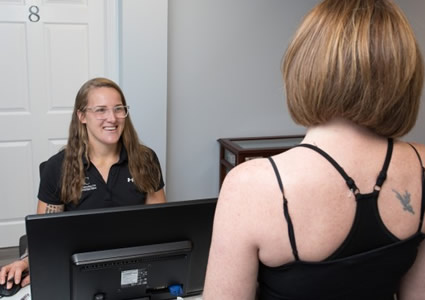 Welcome to Williams Physiotherapy! In our friendly and comfortable practice environment, you'll be made to feel at home right away.
The First Visit
Please allow an hour for this initial appointment. We'll have you fill out some intake paperwork that provides a snapshot view of your health history. Then, our physiotherapist Jacob Best will greet you and have a conversation about what brought you in. He'll ask you about your injury or area of concern. You'll then be asked to change into comfortable clothing for your examination.
You then can expect a thorough physical assessment that involves an array of tests to identify what hurts and whether or not there's an anatomical structure at fault. If it's a biomechanical issue, we'll seek to determine what's driving your symptoms.
Jake will go over his findings and discuss an appropriate treatment protocol after that. If you agree to start treatment, we'll give you an initial therapy to provide you with some relief.
We may provide the following:
Self-release technique from a trigger point perspective
Education about self-management
Exercises with instructions of how to do them
Typically clients will come in a couple of times a week for a week or two and then we start spacing out your appointments. Once you're able to self-manage your symptoms, you won't need to visit us as often.
Ongoing Sessions
Each ongoing session takes about 30 minutes. At these visits, we will discuss how things are going, your results to date, and if you're getting the outcome you expected. Then we will continue with your care plan, including progressing through different exercises. If we're not getting the desired results, we reevaluate and then will modify the plan to get optimal results.
Offering a Multi-pronged Approach
If we feel as though someone can be helped by a different service, we refer in-house and often co-treat and co-manage because it's not just one approach that helps people.
We believe that addressing an issue from all angles and having an open round table discussion among our clinicians is something that makes our approach distinct from other practices. Of course, every client is different. Some will benefit from having their case co-managed while others can get great results from getting one service such as
physiotherapy
, chiropractic or massage.
Our clients always will get educated about their options so they can decide how they want to proceed.
Contact us today to schedule an appointment.
BOOK APPOINTMENT »


New Patients | (506) 206-0166